Lyon House
This is a complete new house, which I have built on a beautiful riverside site replacing a rather uninspiring seventies concrete bungalow. It is a north facing site with spectacular views over the river Dart. This presented the Arcitecht ( Paul Bedford, of Bedford & Jobson) with quite a tricky task of giving the owners the accomdation they sought, making the best of the views and restricting the shadow over the garden. These factors coupled with his own preference for rectiliniear form (at least externally) have created an unsual design. The plan for me, resemebles that of a church, was a rather challenging build, with little tolerance for error with the laying out of the building. We started rather late in the season, mid June 2007 and the cob was not started until towards the end of August, so it was touch and go especially with the bad weather as to whether we would get the roof on before christmas. I am glad to say we just made it. For all this I am quite pleased of the results, and so are the owners! Lyon House won "Best vernacular building" in the LABC 2008 awards; south west region.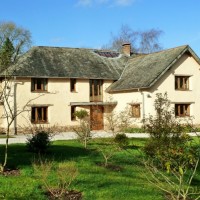 Finished house as garden matures.
View from North showing reclaimed Delabole slate roof.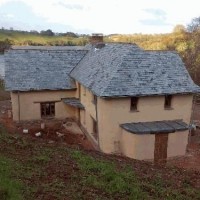 Main bathroom tiling and bespoke cupboards.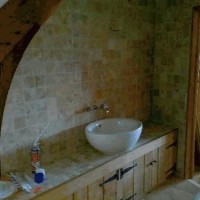 As with all external joinery; made with locally grown sweet chestnut.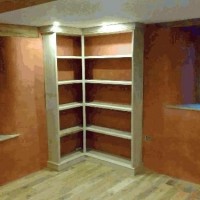 View from North, showing heat-pump shed.
Rough cast lime rendering.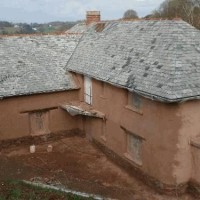 Kevin demonstrating this traditional craft, using lime putty based render. Hand harled onto the wall.
Also showing bespoke oak doors.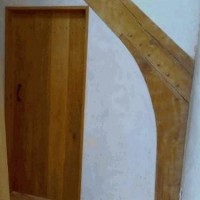 Finished internal roof structure.
Reflects the shape of the cob newel.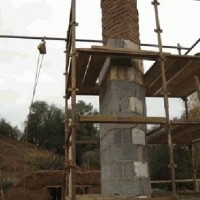 Used for thin wall behind conservatories.
Showing temporary ties to aid accurate setting out.
Between the two conservatories.
Showing the finished Newel lime plastered.
Showing bespoke newel from above.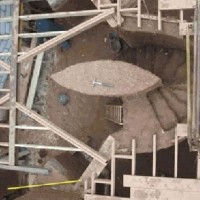 Showing the first floor detail around stair newel.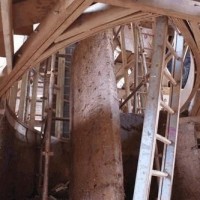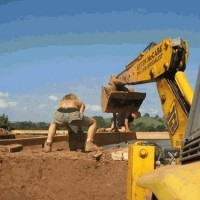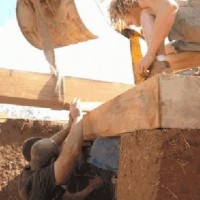 Showing temp shuttering for bespoke stair newel.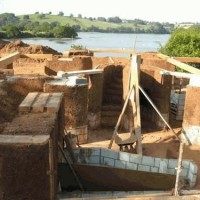 Showing acrows giving temporary support.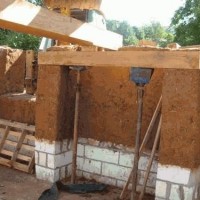 Showing oak lintels with trestle pieces below.
Showing acrows supporting fire place beam.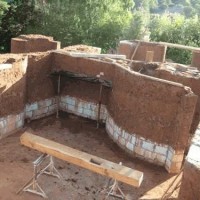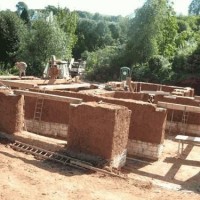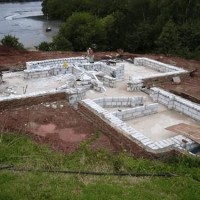 With yellow ochre lime wash.