Cob Course Sweden
In 2009 I ran a three day course in Sweden Organised by local Architect Jenny Andersson The local soil was quite low in clay and a rather grey colour but we were still able to a satisfactory cob mix we started the building off on the course and it was subsequently finished by th designers Jenny and Hans.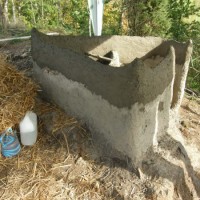 Roof structure steep for thatch.
The curvy design was Jenny and Hans's.